Ladle Preheater for Non-Ferrous Foundries
For the safe and effective transportation of molten metal to a ladle, pre-heating is required. Modern ladle metallurgy requires higher temperatures in order to pour consistently. MMEI offers a complete Ladle Pre-Heating System that works in conjunction with your molten metal system. The system operates on natural gas and is the most flexible and durable system available. With a 750,000 BTU/hr. burner and blower, the fuel train includes a single burner for flame safety, temperature control, an ignition transformer, UV flame monitoring, and a thermocouple for high limit.
The MMEI Ladle Pre-Heating System is offered as a complete package and cannot be sold as separate components to be assured of meeting government and industry standards.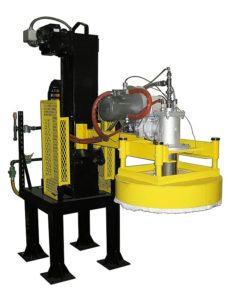 Features:
Complete System
Insulated Cover
Steel Exterior
Refractory Lined
Rugged Vertical Lift System
Meets Dicastal Requirements
Benefits
Meets Government and Industry Foundry Requirements
Proven Reliability
Expert Installation and Engineering
Long Life
Superior Serviceability