Visit Molten Metal Equipment Innovations
at MetalCasting Congress 2020
April 21-23, 2020
Cleveland, Ohio
Booth 645
Transferring Smaller Amounts of Molten Aluminum, Safely and Efficiently
Sometimes transferring smaller amounts of molten aluminum present big problems. Niche technologies present solutions for specific applications.
In metalcasting our focus is typically on large-scale problems, as they often have the greatest impact on our business results. In the business of producing secondary aluminum or aluminum castings there is no question that often it is a game of scale and efficiencies applied to large amounts of metal, liquid or solid. However, there are times when there is a need to focus on smaller amounts of metal, and how to transfer it both safely and efficiently. For example: when liquid metal must be transferred out of a casting machine after a run, or when there is an alloy change. Another example is delivering small, accurate doses directly to a mold to make a single casting. Let's look at some ways to use niche product technologies to facilitate the safe and efficient transfer of small amounts of liquid metal.
HYCAL Hydrogen Analyzers from MMEI Ensures Casting Quality
The control of dissolved hydrogen in liquid aluminum alloys is a critical requirement for the aluminum industry to reduce porosity and to combat shrinkage in castings.
● In order to analyze the hydrogen content, it is necessary to measure it directly.
● In order to control the hydrogen content, it is necessary to measure it accurately in real-time.
MMEI offers an accurate, reliable and cost-effective solution:
HYCAL Hydrogen Analyzer – mobile analyzer for real-time measurement of
dissolved hydrogen content within molten aluminum alloys. Measure the hydrogen content and react before you've created scrap castings.
● Plug and play – No assembly required
● Durable – Chemical attack and impact resistant
● Economical – 100 measurements or 20 hrs cumulative use
● Fast – Initial stable reading < 5 mins typical, response time thereafter < 5 secs
● Versatile – Spot checks and/or continuous monitoring
● Traceability – Calibrated reference gases may be purged through the probe to verify sensitivity, response time, and accuracy of the probe.
You can count on MMEI to lead in providing advanced quality tools to produce better parts at less cost.
MMEI Announces New Online Ordering
Molten Metal Equipment Innovations has rolled out a new online ordering portal through our website that is incredibly easy to use.
The first step is to contact MMEI and let us know that you'd like access. Within a day, we will create login credentials, and set up a store that has only the parts that you use. All parts are sorted by equipment type (e.g., "Workhorse" or "Scrapeater," etc.) and include clear descriptions as well as images of the parts to make identifying the parts that you need a breeze.
Once an order is placed, our office will immediately receive your order, enter it into our system, send you an order confirmation, and complete delivery. Each and every order is still entered individually to ensure that everything is correct.
It's really simple to use! Contact us and we will get you set up today!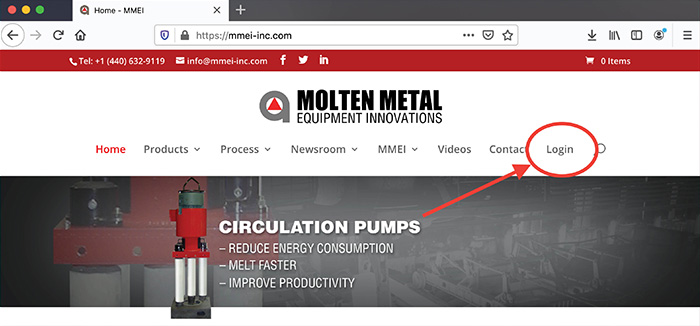 State-Of-The-Art Equipment
MMEI recently installed a new Johnford ST-100 Super Turning Center to produce a mix of complex and large parts—faster. Our 5 axis machining center has live tooling allowing for tooling changeovers with no downtime.
With 100" of travel, it can handle our customers' longest parts with ease, and adds great
flexibility to the manufacturing of our core product range.
Our reputation for delivering exceptional results has stood the test of time because of our commitment to continuous improvement in all aspects of our business.
Please contact us to learn more about how our equipment can improve your furnace
circulation and metal transfer process.
Using Smart Technologies to Circulate & Transfer Molten Metal
Simple Solutions That Work! (April 2019) – It would seem to state the obvious that the interface between machines and human beings is at the center of metal processing. Over time the depth to which this relationship has developed has been the basis for the different phases of industrial "revolution." The Internet of things (IoT) now enables an entirely new way to connect the many decentralized components of a system so that information can be shared and used in ways that was previously not possible.
Minimizing Dross Creation in Molten Aluminum Transfer
Simple Solutions That Work! (September 2018) – It is a simple enough concept that the goal of any molten metal processing business should be to finish the process with the amount of metal for sale that is as close as possible to the amount you started with.
MMEI Introduces Large Capacity Molten Metal Circulation Pump
BIGFOOT offers more flow at lower RPMs than competitive pumps
Middlefield, OH (July 26, 2016) – Molten Metal Equipment Innovations (MMEI) introduces the Bigfoot circulation and gas injection pump. Bigfoot was developed out of client needs for increased flow during molten metal circulation, but with reduced size. Bigfoot achieves the same flow rates as larger pumps, but does it more effectively and efficiently. [ Click to learn more! ]
Trimet benefits from Workhorse LT pump
Worker safety is always a paramount consideration in aluminium plants. That was one of the key motivations behind Trimet's implementing a launder transfer pump made by Ohio, USA-based MMEI, and purchased through Gerken SA.
Aluminum Times (September, 2016) –Belgium-based Gerken SA (a subsidiary of Gerken Group) specialises in the manufacturing and distribution of degassing shafts, rotors and graphite casting rings. Also it is renowned for its own anti-oxidation impregnation of graphite. In Europe, the firm is the representative for Molten Metal Equipment Innovations (MMEI). The company MMEI manufactures graphite pumps for circulation and transfer of molten metal. Within Trimet Aluminium SE's massive [ Click to learn more! ]