Visit Molten Metal Equipment Innovations
at Euroguss 2020
January 14 – 16, 2020
Nuremberg, Germany
Hall 8, Stand 8-619
MMEI Announces New Online Ordering
Molten Metal Equipment Innovations has rolled out a new online ordering portal through our website that is incredibly easy to use.
The first step is to contact MMEI and let us know that you'd like access. Within a day, we will create login credentials, and set up a store that has only the parts that you use. All parts are sorted by equipment type (e.g., "Workhorse" or "Scrapeater," etc.) and include clear descriptions as well as images of the parts to make identifying the parts that you need a breeze.
Once an order is placed, our office will immediately receive your order, enter it into our system, send you an order confirmation, and complete delivery. Each and every order is still entered individually to ensure that everything is correct.
It's really simple to use! Contact us and we will get you set up today!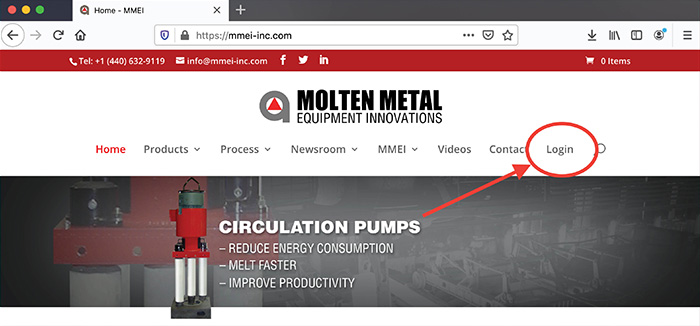 State-Of-The-Art Equipment
MMEI recently installed a new Johnford ST-100 Super Turning Center to produce a mix of complex and large parts—faster. Our 5 axis machining center has live tooling allowing for tooling changeovers with no downtime.
With 100" of travel, it can handle our customers' longest parts with ease, and adds great
flexibility to the manufacturing of our core product range.
Our reputation for delivering exceptional results has stood the test of time because of our commitment to continuous improvement in all aspects of our business.
Please contact us to learn more about how our equipment can improve your furnace
circulation and metal transfer process.
Using Smart Technologies to Circulate & Transfer Molten Metal
Simple Solutions That Work! (April 2019) – It would seem to state the obvious that the interface between machines and human beings is at the center of metal processing. Over time the depth to which this relationship has developed has been the basis for the different phases of industrial "revolution." The Internet of things (IoT) now enables an entirely new way to connect the many decentralized components of a system so that information can be shared and used in ways that was previously not possible.
Minimizing Dross Creation in Molten Aluminum Transfer
Simple Solutions That Work! (September 2018) – It is a simple enough concept that the goal of any molten metal processing business should be to finish the process with the amount of metal for sale that is as close as possible to the amount you started with.
Visit Molten Metal Equipment Innovations at NADCA 2018
October 15-17, 2018
Indianapolis, IN
Booth # 110
Visit Molten Metal Equipment Innovations at Aluminium 2018
09 – 11 October 2018
Messe Düsseldorf, Germany
Stand: Hall 10, Booth E12
MMEI Introduces Large Capacity Molten Metal Circulation Pump
BIGFOOT offers more flow at lower RPMs than competitive pumps
Middlefield, OH (July 26, 2016) – Molten Metal Equipment Innovations (MMEI) introduces the Bigfoot circulation and gas injection pump. Bigfoot was developed out of client needs for increased flow during molten metal circulation, but with reduced size. Bigfoot achieves the same flow rates as larger pumps, but does it more effectively and efficiently. [ Click to learn more! ]
Trimet benefits from Workhorse LT pump
Worker safety is always a paramount consideration in aluminium plants. That was one of the key motivations behind Trimet's implementing a launder transfer pump made by Ohio, USA-based MMEI, and purchased through Gerken SA.
Aluminum Times (September, 2016) –Belgium-based Gerken SA (a subsidiary of Gerken Group) specialises in the manufacturing and distribution of degassing shafts, rotors and graphite casting rings. Also it is renowned for its own anti-oxidation impregnation of graphite. In Europe, the firm is the representative for Molten Metal Equipment Innovations (MMEI). The company MMEI manufactures graphite pumps for circulation and transfer of molten metal. Within Trimet Aluminium SE's massive [ Click to learn more! ]