Non-Ferrous Molten Metal Lift Transfer Pumps
MMEI's Lift series of transfer pumps can be used in low lift applications with existing pump wells too small to allow the more versatile Launder Pump Systems.
Available in two sizes: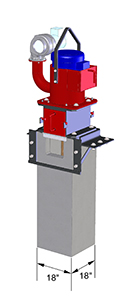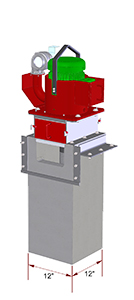 Perfect for tight spaces with minimal lift, this cast bodied pump eliminates the costly riser tube and transfer piping.  It reliably delivers a quiescent metal flow, with minimal dross formation.
Features
For use with molten metal such as aluminum and zinc
Use to pump out your furnace and fill crucibles, ladles, molds or ingots
Flow rates up to 3,000 lbs. (1,350 Kgs.)/min
Cast pump body is made with a proprietary material designed specifically for MMEI and is long lasting and durable
Rugged pump construction, built for the harsh molten metal environment
Energy efficient electric motor allows variable speed operation for varying metal flow. The pump comes with electric controls and an integrated cooling blower
Benefits
Eliminates the costly expense of riser tubes and transfer piping
Engineered to provide long service life
Designed for easy assembly and repair
Refractory lined launder sections available in lengths up to 48″ for use with the pump