Conventional Transfer Pumps with Piping
MMEI conventional Transfer pumps are most appropriate for ultra-high-lift applications. The Mini and Workhorse pumps will meet the majority of your conventional transfer applications. Both pumps are available in top and bottom feed versions and are designed for aluminum and zinc applications. The pumps can be driven by either air or the more controllable and economical electric motor. Unlike our competitor's pumps, our risers are not structural members of the pump and can be easily replaced. The riser sits on a button located on the base and the riser clamp is attached to the motor mount with a bolt. The riser can be changed hot, limited down time.
Models: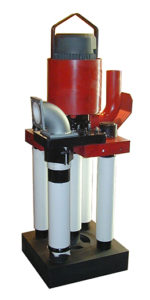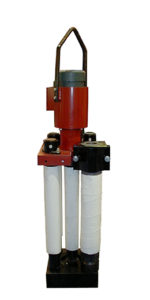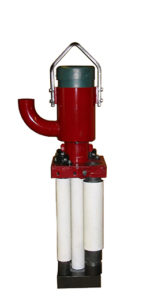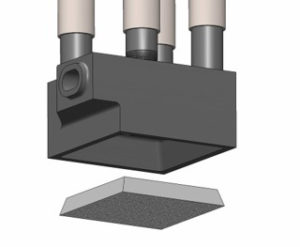 MMEI transfer pumps can also be used to filter your metal!  We utilize a ceramic foam filter on the bottom of the pump, and our unique bottom feed rotor to deliver cleaner metal, every time!
Refractory Lined Piping
MMEI also supplies refractory lined piping that is used with our transfer pumps. Available in straight sections up to 48″ (1219 mm) long and elbow angles from 30 to 95 degrees.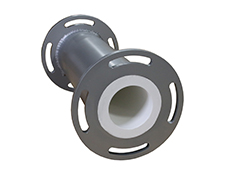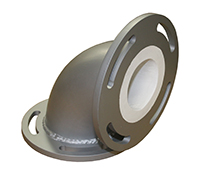 Features
Available in 3 sizes – Workhorse, Mini & Mighty Mite
Proprietary mixed-flow rotor design generates more flow
Rugged design with extra-large components
Advanced material protective sleeves on shaft and posts
Riser is non-structural component
Driven by a high-efficiency, electric motor
Refractory lined pipe available to complete your pump
Available with a filter on inlet to remove impurities
Benefits
Right size pump for your application
Generates more flow and higher lift for faster transfers
Withstands harsh environment for longer service life
Increases service life of components
Riser can be "hot changed" quickly, reducing downtime
Provides precise control of the flow, reduces electric costs
Safely deliver the metal to where you need it
Deliver cleaner metal, improve quality of castings